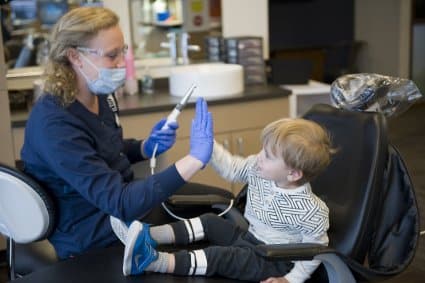 The purpose of a regular appointment at our office is to help your child grow into a healthy, and beautiful smile, and to prevent dental problems before they start. A regular dental appointment with us may include:
Teeth Cleanings
One of the ultimate tools in a pediatric dentist's arsenal of dental treatments is a teeth cleaning. Over time, tartar and plaque can build up on a child's teeth and can lead to cavities, decay and other dental problems. By having a regular teeth cleanings we can help remove built-up tartar and plaque, monitor teeth health, gum health, growth rates and even more.
Dr. Bryan Savage and Dr. LaShica Beverly offer routine cleanings and dental exams for your child in our open bay treatment style which is made to be a comfortable, relaxing and safe. All of our cleaning chairs are in a spacious open room so that children can watch each other and share their experiences.
Developing Good Habits With Positive Reinforcement
During a regular exam, we will teach good hygiene habits, so that your child can have the tools necessary to help prevent dental mishaps in the future. We want your child to have a wonderful experience every time they come and visit with us. Because of this we use many child-friendly teaching techniques including tell-show-do, the use of toys and props, and positive reinforcement. For added comfort we also have TVs in all of our open bay areas as well as lots of fun games and activities to help entertain children during their appointment.
The oral health of your child is important and the habits they learn now as well as the care they receive will impact them for the rest of their lives. At West Metro Pediatric Dentistry we love to help children have smiles that will last a lifetime, and cannot wait to help your children have the great oral health and beautiful smiles they deserve.
Special Needs
Dr. Bryan Savage and Dr. LaShica Beverly are specially trained to see children with significant medical, physical, and mental disabilities and believe that they deserve special attention. Our office is equipped to provide top quality dentistry to every child while making them feel safe and welcome while in our care. We offer private rooms, sensory toys, and televisions for distraction, as well as flexibility in our work space to accommodate wheel chairs wherever needed.
Fluoride Varnish
Using a fluoride varnish, we can help your child's teeth stay healthy and strong in between visits to the dentist. Children will swish fluoride in their mouth, thoroughly coating their teeth and helping prevent the development of cavities. Our fluoride varnish comes in child-friendly flavors and can play an essential part in your child's oral health.
Digital X-rays
Our digital x-rays allow us to detect cavities at their earliest stage and prevent other dental problems. With digital x-rays, our child patients can look at their x-rays right on the screen with us, and we can use this technology as an educational tool. Moms love digital x-rays because they are accurate and use even less radiation.
Have questions for our team about teeth cleanings and exams? Call us today!