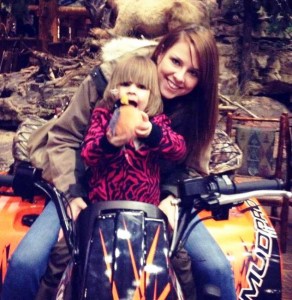 My Name is:  Kayla
My friends and family call me: K-la or Mama Monkey
My job title: Expanded Duty Dental Assistant
How long I have worked with West Metro Pediatric Dentistry:  Since July of 2012. I've been a dental assistant for three years.
What I love about my job: I love all the people that I work with, and I love working with kids because they are fun and happy and silly.
A little bit about my life outside of work: I have a 3 year old daughter named Morgan. We love to go to the zoo, the museums, and Monkey Business. Any time I spend with her is my favorite time!
A few of my favorite things…:
…ice cream flavor: Red Velvet Cake from Ben and Jerrys
…time of year:  Fall
…concert: Maroon Five
…thing about Colorado: All of the fun places that we have to go, like Bishops Castle
…meal:  Sushi. I could eat it every day!
The biggest thing I've learned in the last year: Not to stress about the little stuff, and to stay humble.