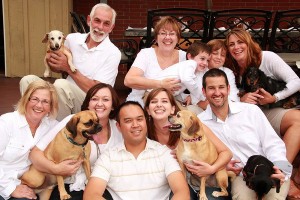 My Name is:  Karen
My friends and family call me: K-Dog
My job title: Office Manager
How long I have worked with West Metro Pediatric Dentistry:  Almost 4 years. Dr. Bryan is my brother, so I've known him a long time!
What I love about my job: Taking time to talk with patients and really have a conversation with them—the kids are what make every day so fun! And I really enjoy building a great team, and getting out and getting to know other people in our community with fun marketing stuff.
A little bit about my life outside of work: I have a dog named Jack, and I love to go hiking with him on the weekends. I have an awesome, very close family, and we do a lot of fun stuff together. Any time that I can spend with my three nephews brightens my world.
A few of my favorite things…:
…ice cream flavor: Coffee (with hot fudge on top)
…time of year:  Summer (is it ever going to stop snowing??)
…concert: John Mayer at Red Rocks a few years ago
…thing about Colorado: Summertime…everything about it is awesome
…meal:  Pasta of any kind, but if I had to pick one it would be my family's homemade sauce and meatballs
The biggest thing I've learned in the last year: Every single day counts, because you don't know if you'll get another. Make it a great day for all the right reasons.